Her law firm is placed in Pavia, Viale Cesare Battisti. N.15 (first floor, porter's lodge service from 8.30 a.m. to 12.30 p.m. and from 2.30 p.m. to 7 p.m.), telephone number 0382/20277
(Second address)
The law firm is easily reachable from any direction both by car and by the public means of transport.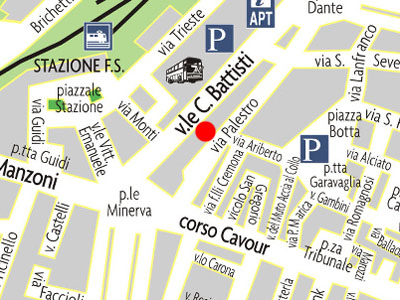 As shown in the map, indeed, the railway station is just 100 Mt. close to it, the bus station to and from the regional capital and the neighboring towns is less than 50 Mt. far and both in viale Cesare Battisti and in the adjacent streets there are parking lots.
Please also note that the main Judicial Offices (The Court, The Public Prosecutor's Office) and other administrative offices (Lombardy Region Office, Inps, San Matteo Hospital)are very close to it.